I went to the info session at the Preston arena last night.  I felt bad for the project representatives there, one was beset by the same group of residents for over half an hour, repeating their same anti-everything talking points over and over and over again.
One kept insisting that they should just expropriate the rail line from CP, then all of the North Cambridge routing problems would be solved.  "They can take our homes, why can't they just take CP's track?"  No matter how many times he was told by the project rep that rail lines are federally regulated and a municipality just doesn't have the authority to do that, he continued to repeat his point.
Looking at the display boards full size, I realized just how much I like the F2b/K3b route for Kitchener, and S3c/S3d route in South Cambridge.  Sad to see the trail get wacked, but it would really minimize disruption to the surrounding streets and properties and hopefully there'd be width for rail + trail.
North Cambridge is a real puzzle.  I like V/W/X to avoid a large chunk of Eagle St, and M/M1 is an interesting way of feeding into that, but how do you make the turn from King St onto M?  I find myself dreaming of some magical way to put a tunnel under the 401 right, about, here: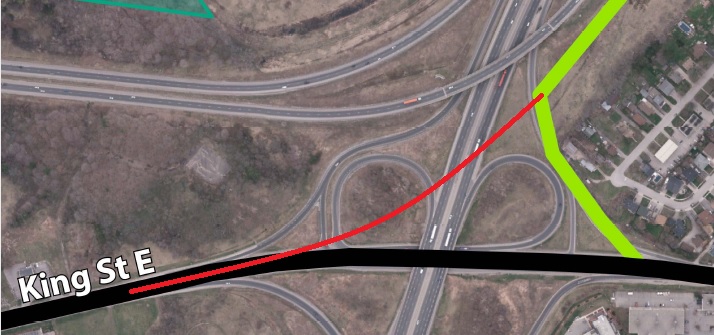 It's short, and you wouldn't have to worry about any homes or buildings, so it could be done by cut-and-cover methods or even just as a trench with three portals under the 401 and King/ramp complexes.  But would the MTO let them???
Also, where do you put the Preston stop if they go with M/M1 to V/W/X?  It would be neat in the park, but that torpedoes bus connections.
I don't envy them this game, but can't wait to see how it all works out.
...K