Welcome Guest!
In order to take advantage of all the great features that Waterloo Region Connected has to offer, including participating in the lively discussions below, you're going to have to register. The good news is that it'll take less than a minute and you can get started enjoying Waterloo Region's best online community right away.
Login

or

Create an Account
General Urban Cambridge Updates and Rumours
General Urban Cambridge Updates and Rumours
Quote:Cambridge pedestrian bridge over Grand River gains support

Build it and we will come, say some Cambridge residents about a possible pedestrian bridge over the Grand River.

About 220 residents have signed a petition supporting the bridge and favour placing it between Concession Sreet and Queen's Square in downtown Galt.

Mayor Doug Craig first proposed the idea to get more residents down to the river during his State of the City address last May.
What the article doesn't mention is that Mayor Craig didn't come up with the idea; students at the architecture school proposed it a few years ago as part of their 'What would we do with Galt?' project. Still, it's a worthwhile endeavour. They could use one up near GCI parallel to the railway bridge too - maybe keep West Galt students from using the railway bridge to get home!
panamaniac Wrote:Should be in the Cambridge thread, but I agree it's a good idea. The $1million cost estimate seems exceedingly low to me, however. Would that even pay for the environmental assessment? If I'm not mistaken, Ottawa paid over $5million for its Corktown Bridge over the Rideau Canal. If it's not going to be beautiful, they shouldn't proceed.
They might be able to save by reusing the bridge support from the old railway bridge. It was used by Grand River Railway/CP to access industries on the west bank of the Grand, but once they were all shuttered or converted to trucks the bridge was demolished.
The new Hespeler Beer Store has started construction on the corner of Holiday Inn Drive and Groh Ave. In the same lot as the Tim Hortons. Setbacks from the street look good. Will post a picture next time I drive by.
Quote:

Cambridge running out of room for retail development: report


http://www.therecord.com/news-story/5166...nt-report/

CAMBRIDGE — The City of Cambridge will struggle to find room for all of the new retail stores it is expected to need by 2031, a consultant's report suggests.

Research by planners Malone Given Parsons Limited says the city will need more than 100 hectares to accommodate new retail space in the next 16 years, but only 21 hectares of developable land is left inside the city's boundaries.

"There really isn't enough (land) to support all of this (retail) space," said Mimi Ward, a planner with Malone Given Parsons who helped prepare the report told council Nov. 24.

But planner Craig Hunter of Hunter and Associates hinted that Ward's company's analysis might be overlooking the rise of Internet retailing.

"Ward's assumptions are equivalent to about one Tri City Centre per year rolling out," Hunter said, referring to the shopping centre in Hespeler now home to a SAIL outlet. "We thought that sounded pretty ambitious."

He said online retailing now accounts for about four per cent of all sales in Canada.

But Ward responded that "there will still be a need for bricks and mortar" well into the future, as e-commerce is relatively new in Canada not rising as quickly here as it is in the United States and Europe.
More at The Record
I don't buy the figures from that study. There are tons of empty storefronts in Cambridge and an excess of big box commercial space and this dude claims more is needed? I don't think so.
Quote:

Road, highway improvements piling up in Preston


http://www.cambridgetimes.ca/news-story/...n-preston/

CAMBRIDGE – Regional council approved a design concept last week for more than $12.5 million worth of road improvements on King Street, from Bishop Street to Eagle Street, in 2017.

Improvements include new curbs and on-road cycling lanes, designated left turn lanes on King Street at Montrose Street, the replacement of sidewalks and transit landing pads and new concrete pads for future transit shelters, enhanced landscaping and streetscaping, as well as the replacement of underground infrastructure.

The city will be on the hook for about a third of the cost...

..."Next year, the region has a separate project for improvements to King Street, Fountain Street and Shantz Hill – that whole area," Weiler said.

"That was previously approved by council and they're going through the design and property acquisition for that right now.

"So that's a one- to two-year project, and in addition we have on our program for 2017 replacement of the Fountain Street bridge across the (Grand) river, between Blair and Preston Parkway, along with other road work on Fountain Street …

"We've also got in 2016, as part of that whole Shantz Hill/Fountain work, the reconstruction of Fountain Street up to the 401 up the hill," Weiler added...

...Later this year, the region plans to make improvements to Bishop Street, from Conestoga Boulevard to Concession Road. Replacement of the Fountain Street bridge also gets underway this spring with the ministry of transportation's widening of Highway 401.
I'm not sure what would be better: redoing the Shantz Hill/Fountain area while the bridge is being replaced or waiting. The former can be done without through traffic from Toyota coming down that hill, but much of that traffic will probably be taking Speedsville or Maple Grove to King and Shantz Hill anyway.
Solution found to trail problem during upcoming Hwy. 401 work
Hikers and cyclists will be able to safely cross under the highway during a three year construction period. 
http://www.cambridgetimes.ca/news-story/...-401-work/
"The city has entered into an agreement to provide a temporary trail that will make it safer to bike and hike during upcoming Hwy. 401 widening.  ...
 the Mill Run Trail, which runs from the Sheffield Street trailhead beneath Hwy. 401 to Riverside Park, will be closed for at least three years."
Well that's better than nothing but riding across that speedsville bridge is pretty crappy during the day with normal traffic.
(02-04-2015, 11:16 PM)

clasher Wrote: Well that's better than nothing but riding across that speedsville bridge is pretty crappy during the day with normal traffic.
If I'm not mistaken, the new Speedsville bridge will at least have bike lanes.
This article
's photo implies either bike lines or really generous shoulders.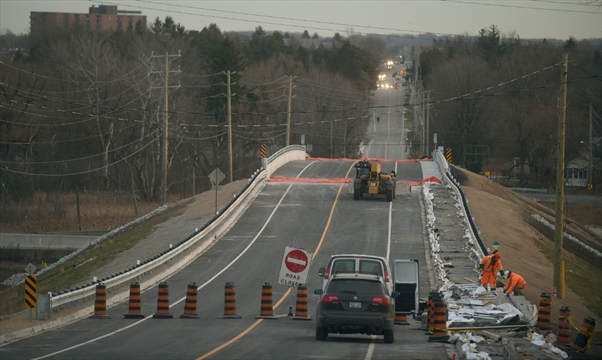 Don't get me started about the lack of biking lanes in a country with no shortage of space and in a region with horse and buggy Mennonites who could well use them.
A few new uses for the old Galt courthouse space!
Quote:Old courthouse invites commerce

A bench press may soon replace the bench that oversaw legal proceedings in the Galt core for decades.

Transformation of the former provincial courthouse on Main Street is the latest in a list of revitalization projects in the downtown area that has a local investor brimming with optimism.

"We're excited," said Cliff Rego, a local real estate broker and one of three individuals planning to spend between $700,000 and $800,000 on upgrades to the building that will accommodate a World Gym on the second floor and up to eight units of retail, office and medical space on the first floor.

"It could be one, it could be three," Rego explained, noting that discussions are ongoing with a variety of potential tenants to lease approximately 14,000 square feet of available space...
Cambridge Place, the office tower that formerly hosted City Hall, has a for lease sign reading "New look coming soon". Sounds like a reclad is imminent!
Another Galt update: an apartment building near Blair Road and George Street is due to be replaced by a condo (probably low-rise). I couldn't get a picture; will have to go back.
Quote:Three houses coming down to make way for apartment building in Preston

CAMBRIDGE: Council has approved a zoning change for a three-storey, 32-unit apartment building on the northeast side of Duke Street, between Anne Street and Union Street North in Preston.

Three homes will need to be demolished to accommodate the structure to be developed as a condominium with a mix of one- and two-bedroom units.
« Next Oldest | Next Newest »
Users browsing this thread: 1 Guest(s)