Flash from the Past: Memories of wilder days at University of Waterloo
Quote:Once upon a time, the University of Waterloo campus was relatively goose-free and about that time (early 1968), Kitchener photographer Fred Curylo was high over Westmount Road North.

His photo was issued as a postcard by Kitchener News Company and it lets us peek back almost 50 years...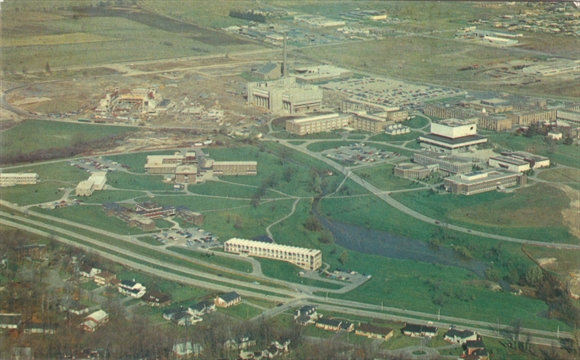 Quote:But late-1960s North American campuses were scenes of dissent, protest, demands, resistance and old rules being cast aside. University of Waterloo's was no exception...

Via sit-ins, students demanded representation on the university's governing bodies — a concept virtually unimaginable in the 1960s. It did happen.

Outrageous prices in the bookstore occasioned a friendly, laughter-and-music-filled sit-in. Prices were reduced. This was education of another sort: if you don't demand, you don't get.

Obviously not every demand was accepted and some weren't even realistic. Picketers protesting recruiting by companies involved in the Vietnam War had little chance to stop corporate representatives signing up engineering and science graduates.
In that same vein, I recall when Burt Matthews became president of UW in 1970 the university bought a home on Westgate Walk in Waterloo for him and for successive presidents. IIRC they paid $110,000 for this property, a seemingly outrageous amount at the time. So outrageous that the Federation of Students held a sit-in in the back yard to protest the (their opinion) waste of money. 
But we were much better behaved than our counterparts at campuses like Berkeley or Columbia. It was a true sit-in. No damage to the property or other shenanigans. I fondly recall that Mrs Matthews came out to serve us refreshments and offer the use of toilets in the house.
I don't recall if ex-MP Andy Telegdi was there. He later became president of the FoS so it's possible. But I do recall that in those radical days our MP was an NDPer, Max Saltzman.