Welcome Guest!
In order to take advantage of all the great features that Waterloo Region Connected has to offer, including participating in the lively discussions below, you're going to have to register. The good news is that it'll take less than a minute and you can get started enjoying Waterloo Region's best online community right away.
Login

or

Create an Account
The Breithaupt Block | 16 m | 4 fl | Complete
The Breithaupt Block
51 Breithaupt Street, Kitchener
http://www.thebreithauptblock.com/
Developer:
Perimeter Development Corporation
Original Proposal:
New Google HQ:
Archived News:
New life for former auto parts plant
Developer plans to renovate 'strategic property' in Kitchener
June 11, 2009 | Chuck Howitt | The Record | Link
Quote:KITCHENER - A former auto parts plant in downtown Kitchener could be turned into high-quality office and research space.

The former International Automotive Components plant, located at the corner of King and Breithaupt Streets, was recently purchased for $500,000 by David Gibson of Toronto.

Gibson is the chair of First Gulf Development Corp., a Mississauga-based commercial development firm. It is best known in this area for redeveloping Waterloo Town Square.

In an interview, he said he is retiring from First Gulf at the end of the year and purchased the Breithaupt Street plant through his own private company, Gibcor Holdings.

"It's a very strategic property, given all the things that are happening there," he said.

The plant is located on a prime downtown property in the heart of the city's "warehouse district." It is close to the new University of Waterloo health sciences campus, the Kaufman Lofts and the Lang Tannery redevelopment.

Gibson said the plant, a mishmash of old brick structures, additions and storage tanks, actually consists of four separate buildings developed over its long history.

Rather than tearing them down, he plans to gradually renovate the buildings as he can find tenants. The aim is to turn it into a "high-quality development including courtyards," he said.

"I think the market is very strong in that area for research and development and other high-tech users."

He has already hired the architectural firm Roberston Simmons to begin redesigning the property. The building has 250,000 square feet of space including basements and sits on 1.6 hectares of land.

Renovating old buildings has long been an interest of his, Gibson said.

A graduate in urban economics from Wilfrid Laurier University when it was known as Waterloo Lutheran University, he wants to continue working on projects in the Kitchener and Waterloo area, he said.

"I've always been interested in contributing to cities, doing mixed-use developments."

The facility has been empty since June 2008, when IACNA Soft Trim Canada, also known as International Automotive Components, closed the plant and put almost 90 people out of work. Gibson purchased the property from IACNA, based in Dearborn, Mich.

The original brick factory dates back to 1904, when workers began making rubber footwear at the facility.

Over its long history, the factory has also been owned by the Dominion Rubber Company, Uniroyal, Beckers Lay-Tech and Collins & Aikman.

Developer turning old boot factory into trendy commercial space
July 19, 2010 | Melinda Dalton | The Record | Link
Quote:KITCHENER — For more than a century, boots and auto parts were the products rolling off the line at the industrial buildings on King and Breithaupt streets.

But, as a second life is breathed into its yellow bricks by a Toronto-area developer, the complex could soon be known as the home base for a new generation of local innovation.

When its first phase opens next summer, The Breithaupt Block, as it's been named by developer Perimeter Development Corp., will offer 175,000 square feet of trendy commercial space targeted primarily at the high-tech, research and creative sectors.

"In terms of people who like that type of space, they're creative thinkers," said David Gibson of Perimeter. "That's the type of people we're going after — design oriented type companies and the like. There are many good examples of this type of mix in Toronto and we think there's a real demand for it in the Kitchener-Waterloo area."

The developer added a slick wrap advertising the space on the face of old factory last week and has already seen significant interest.

Gibson — the former CEO of First Gulf Development, which was responsible for the redevelopment of a significant stretch of Uptown Waterloo — bought the complex in June 2009. Perimeter is also in the process of redeveloping several properties in downtown Galt.

Workers have spent the last year taking out 12,000 tonnes of heavy machinery from the former Kitchener auto parts plant. Clearing out the buildings is expected to take another month.

The complex — parts of which date back to 1903 — will see much of its exterior heritage features maintained with modern courtyards and drive ways added to break up the buildings into distinct sites.

The building at the corner of Breithaupt and King streets will get the most significant exterior makeover, with a modern glass facelift and the potential addition of an 50 to 60 space underground parking structure in what is now a basement. Gibson said they're now looking for a signature tenant to occupy that 44,000 square foot space.

The other five buildings in the complex will be cleaned up, but their historical character will remain in tact, according to the developer. All six buildings will be leased out in stages.

In total, the site will have around 350 parking spaces, including those in lots across the street.

The building originated as the Merchants Rubber plant — a joint venture between Jacob Kaufman and T. H. Rieder — and started production of rubber for footwear in 1904. The company was later taken over by Canadian Rubber, then U.S. Rubber and, in 1926, Dominion Rubber.

Before the Second World War, the factory turned out more than 15,000 shoes a day. In 1944, Dominion bought up the adjacent and abandoned Old Berlin Piano factory, adding it to the production complex.

The complex further expanded in 1956 with the construction of the angled King and Breithaupt street building. The last rubber boots rolled off the line in 1966 and the plant became part of the general products division of Uniroyal Ltd.

The sign on the factory continued to change — from Beckers Lay-Tech to Perstorp Components to Collins & Aikman Corp. and finally International Automotive Components — until production stopped for good in 2008.

Rod Regier, the city's head of economic development, said it's encouraging to see the private sector respond so positively to change spearheaded by the city, which initiated significant spending to spur on development in the core in 2005.

"I expect that when this project is completed we will have at least 500 more people working in that block than were working there when Collins and Aikman was manufacturing car parts on the site," he said.

Perimeter is in the midst of the site plan approval process and hope to have their final approvals completed by the end of the summer.

The company will have to complete a Heritage Impact Assessment before final approval is given, said the city's interim director of planning, Alain Pinard. Because there is no need to rezone for this type of development, it does not need to go through a public process.

The other high-profile commercial redevelopment project in the core, the Tannery complex, drew significant public outcry when it became clear the developer planned on demolishing four former warehouse buildings to make way for temporary parking.

The power house building on Breithaupt, opposite the main buildings, will need to be demolished to make room for parking on that site, but it not part of the complex's original structure.

Pinard said there is a difference between the two projects because the Breithaupt buildings are small compared to the ones proposed for demolition at the tannery.

The Tannery already has its site plan approved in principle. Final approvals could come as early as next week, according to city staff. Demolition can't begin until that happens.

The Breithaupt Block developer hopes to start construction and some of the demolition work in the fall.

Gibson said he is not concerned about oversaturation in the market for the type of trendy office space that his revamped buildings will offer. He said there's already a push on for companies to move out of the region's north suburbs and into areas with walkable amenities.

"One of the exciting things about buildings like Breithaupt is there's a huge demand for buildings like this," he said. "There's so many good things happening on that corner — it's going to be the new centre of the universe for the Kitchener-Waterloo region, in my opinion."

Archived News:
Major developer takes stake in Breithaupt Block project
Record staff | The Record | Link
Quote:KITCHENER – The developer of the Breithaupt Block has taken on a partner to help it turn the former Kitchener boot factory into office space.

Perimeter Development Corp. has signed a deal to sell a 50-per-cent stake in the project to Allied Properties REIT, a Toronto-based developer that specializes in adaptive re-use of urban industrial buildings. The deal, expected to close Dec. 1, is worth $4 million.

The Breithaupt Block consists of six former industrial buildings, containing about 176,000 square feet of space, at Breithaupt and King streets in Kitchener's warehouse district.

Merchant Rubber used the original building to produce rubber boots, starting in 1904. More recently, the buildings were used to make auto parts. The buildings were vacated in 2008 when International Automotive Components shut down its operations here.

Perimeter and Allied plan to develop the buildings into Class 1 office space, with completion scheduled for the middle of 2013.

"This is a great opportunity for us to augment our position in the warehouse district of Kitchener and to develop a working relationship with an accomplished developer in the area," Michael Emory, chief executive officer of Allied, said Wednesday in a news release.

Allied is familiar with the warehouse district. It owns 72 Victoria St., a former wooden seat plant that was turned into office space in 1999.

In total, Allied owns properties in Kitchener, Toronto, Montreal, Winnipeg, Calgary and Quebec City containing a total of about six million square feet of office space.

Allied, a publicly traded real estate investment trust, said Perimeter will oversee the redevelopment of the Breithaupt Block and manage the property.

Perimeter, which acquired the Breithaupt Block in 2009, also has a project on the go to redevelop a section of Main Street in the Galt section of Cambridge. David Gibson, the Toronto-based firm's founder, formerly was the chair of First Gulf Development Corp., the company that redeveloped the Waterloo Town Square.

Creating 'cool' spaces for the Tech Triangle
August 08, 2011 | Jennifer Lewington | The Globe and Mail | Link
Quote:The four-storey factory had been on the market for a year before Toronto developer David Gibson considered buying it. Looking at the 1904 property, he saw something others had missed: the chance to transform a brick-and-beam building into premium office space for Waterloo's technology sector.

The former car-parts factory stretches over a block of Kitchener's old warehouse district. "It was pretty gruesome, but you could see the opportunities here," Mr. Gibson recalls of his first impressions of 51 Breithaupt St. in 2009. The building at the former Collins & Aikman plant still housed mammoth machinery. The 4.3-acre site also needed an environmental cleanup – a potential financial risk.

Revised Proposal Renders
The new home of Google:
Speculation mounts over Google move to Breithaupt Block
Feb 8, 2014 | Terry Pender | The Record | LINK
Quote:KITCHENER — Speculation heated up Friday that Google will expand into the Breithaupt Block buildings after a commercial real estate company put out a news release about the move.

"Google has reportedly leased the remainder of the brick and beam space at Breithaupt Block," Cushman & Wakefield said in the release.

The headline on the news release says: A tale of two markets — Kitchener's two-tiered office market solidified as Google inks deal for remainder of Breithaupt Block.

Google currently is located in the Tannery building at 151 Charles St. W. in downtown Kitchener. The Breithaupt Block is a nearby group of four factory buildings that are being developed into modern office space by Perimeter Development Corp.

It is located on Breithaupt Street, just west of the railway tracks and the future site of the central multi-modal transit station at King and Victoria streets.

Benjamin Bach, Cushman & Wakefield's leasing adviser in Waterloo Region, said word of Google's move into the Breithaupt Block comes from existing tenants in the development who were told they could not get more space because Google leased all the remaining space.

"It was confirmed to us by groups close to the transaction," Bach said in an interview Friday.

Cushman & Wakefield also tried to lease space in the Breithaupt Block for its own clients, said Bach.

"We have asked if there are 1,000 square feet or 10,000 square feet or 50,000 square feet available there, and the answer we are told is there is zero space available," he said.

Google did not respond Friday when asked to comment on the report.

Craig Beattie, a partner in Perimeter Development, said he cannot confirm Google is moving into the Breithaupt Block.

"That is only rumour," he said in an email. "C & W should not be reporting that."

Google steadily increased its workforce in Waterloo Region since the internet giant arrived here in 2005 through the acquisition of Reqwireless, a startup that developed mobile phone applications. Back then, it had about 30 employees in an office in the research and technology park on the University of Waterloo's north campus.

In 2010, Google announced plans to move into 34,000 square feet of space in the Tannery. When the company had an official opening for those offices in March 2011, it had more than 100 employees and was exercising its option to expand into more space in the building.

"There is no limit to our hiring here," Steven Woods, Google's senior engineering director in the Kitchener office, said at the opening.

By last October, Google's payroll here increased to between 250 and 300 people, Woods said.

Speculation about Google's move into the Breithaupt Block underscores the importance of preserving old industrial buildings and offices in the city's core, said Bach. Technology companies love that kind of space, he said.

While conventional office space in downtown Kitchener has a chronically high vacancy rate, that's not the story with the industrial chic space, said Bach.

"One of the great legacies of the manufacturing heritage in Kitchener is that we have a lot of beautiful old manufacturing buildings," he said.

"It is a wonderful opportunity in terms of urban renewal to see those buildings reused," Bach said. "I think it speaks to the entrepreneurial spirit in our region that we are taking old buildings and making new things and new ideas in them."

Speculation mounts over Google move to Breithaupt Block
Feb 14, 2014 | Rose Simone | The Record | LINK
Quote:KITCHENER — Google will be moving its Waterloo Region offices into the Breithaupt Block in Kitchener.

"We've signed a lease for new office space at the Breithaupt Block to accommodate the natural growth of our engineering and development team at our Kitchener-Waterloo office," Leslie Church, a spokesperson for Google Canada, confirmed in an email statement late Thursday.

There had been speculation for some time that Google, which has been running out of room at its current location in the Tannery building in Kitchener, would move into larger quarters in the Breithaupt Block.

Confirmation came after Allied Properties Real Estate Investment Trust, which owns 50 per cent of the development at Breithaupt and King streets, announced Thursday that a "substantial tenant" had signed a long-term lease for 185,000 square feet of space, starting later this year and the rest in the early part of 2016.

An additional two-storey building is being developed on the property for early 2016.

Google said it does not yet have dates for the move into the Breithaupt Block.

Iain Klugman, chief executive at Communitech, said an announcement about what will happen with the space that Google is currently using in at the Tannery building will be made at a later date.

Google's presence in Waterloo Region has been steadily growing since it arrived here in 2005 through the acquisition of Reqwireless, a mobile phone software developer.

At that time, it had about 30 employees in the University of Waterloo's research and technology park. By the time it moved into the 34,000 square feet of space in the Tannery in 2011, it had grown to about 100 employees, and now, it employs 240 people in Kitchener.

The Breithaupt Block property initially consisted of six industrial buildings in Kitchener's warehouse district with about 176,000 square feet of leasable space and two acres of surplus land. At the end of last year, about 23 per cent of it had been leased.

Last week, a commercial real estate company, Cushman & Wakefield, said in a news release that Google had reportedly leased the remainder of the brick and beam space.

According to Allied Properties, the additional two-storey building being developed for early 2016 will bring the total leasable space on that block to 221,000 square feet.

Craig Beattie, a partner in Perimeter Development Corp., which owns the other 50 per cent of the Breithaupt Block, said the company is excited to finish off the project.

The signing of such a major tenant is "further evidence of the strength and interest in companies to locate in the urban core of the city," Beattie said.


He said many companies want to locate close to existing and future transit such as the light rail transit and the other amenities in the core, in order to provide a better work environment for their employees to help them attract and retain top talent.

Updated Render:
Looks like some of the vertical beams are being installed. Should have a picture soon!
Will be interesting to see Breithaupt when the new station goes in, especially if they cover the platforms.
The new steel frame is going up quickly.
Does anyone know what the long term plans are of WorkplaceOne? They're basically being surrounded on all sides by Google.
Taken yesterday:
2014-10-25 The Breithaupt Block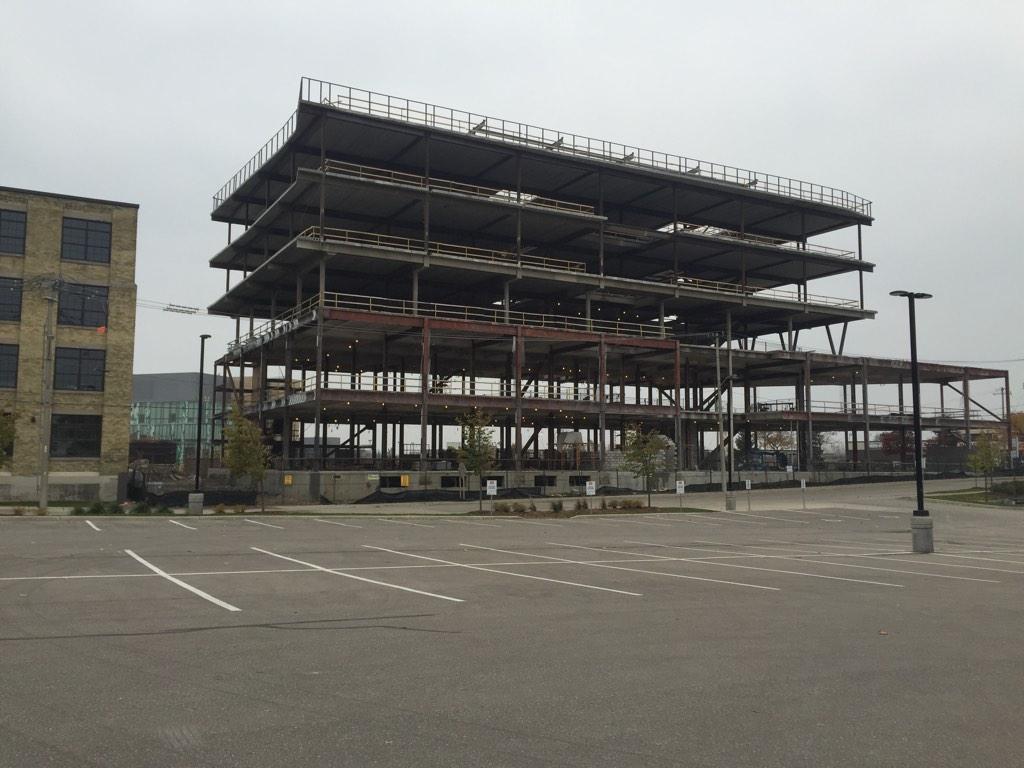 Thanks for this!

Hope we start to see it get closed up before the snow falls.
It's really amazing how they totally gutted it, to the point of chiselling out individual bricks in the beams.
« Next Oldest | Next Newest »
Users browsing this thread: 1 Guest(s)